Exhibitor & Sponsor
The ASGCT 22nd Annual Meeting is the world's largest gathering of gene and cell therapy researchers and provides an international forum where the latest scientific developments are presented and critically discussed.
Meet more than 3,400 attendees, including basic and clinical investigators from academic, regulatory, and biotechnology sectors.
Reach your target audience in-person and through the many branding and sponsorship opportunities available only through ASGCT.
Support ASGCT and its membership through involvement in the Society's Annual Meeting.
View the 2019 Exhibitor & Sponsor Prospectus
Ready to Sign Up?
Apply to Exhibit and Sponsor at the 22nd Annual Meeting
The Exhibit Hall is sold out. To be added to the waiting list, please contact David Wood at dwood@asgct.org.
| | |
| --- | --- |
| ASGCT Annual Meeting Attendance | Who's At the Annual Meeting? |
| | |
Sponsorship
Consider signing on as a sponsor for the 22nd ASGCT Annual Meeting to maximize your marketing efforts and brand exposure at the premier gene and cell therapy event in the world.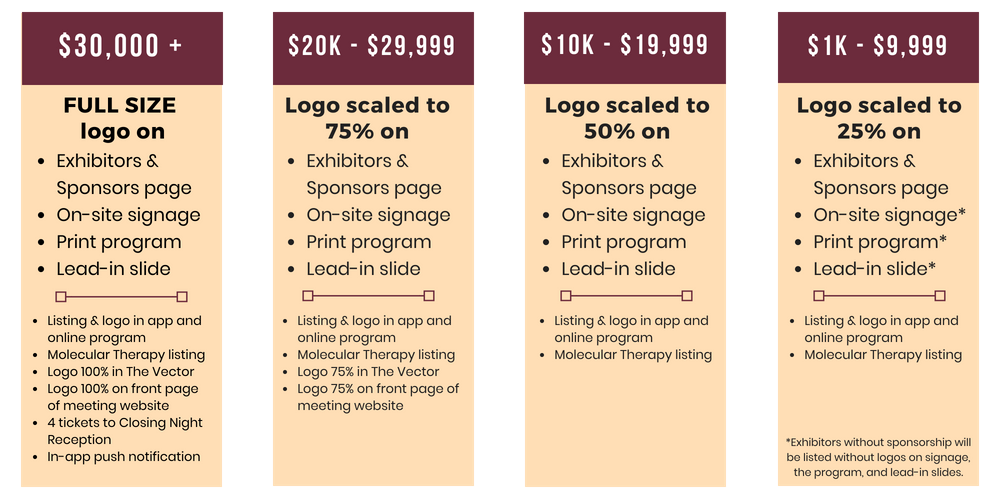 General Exhibitor Information
Depending on the size of your booth, ASGCT offers complimentary full access registrations to the Meeting, plus 4 exhibit-hall-only passes!
8 x 10 booth = 2 full access
+ 4 exhibit-hall-only passes
8 x 20 booth = 4 full access
+ 4 exhibit-hall-only Passes
16 x 20 booth = 8 full access
+ 4 exhibit-hall-only Passes
Additional exhibit-hall-only badges are $100 per additional staff member.
Exhibit Dates
The exhibit hall will be open from 10 a.m.-6 p.m. beginning on Monday, April 29 through Wednesday, May 1.
Exhibit Hall Location
The exhibit hall will be located in the Columbia Room on the Terrace Level of the Washington Hilton.
Exhibitor Registration
Exhibitor registration will be the same as registration for all attendees.
Exhibit Move-In
Sunday, April 28
5–9 p.m.
Exhibit Move-Out
Wednesday, May 1
6–9 p.m.
Exposition Company
Heritage Trade Show Services has been chosen as the exposition company of the ASGCT 22nd Annual Meeting. If you are exhibiting, please browse the online exhibitor service kit.
Sponsor and Promotional Opportunities
Find the perfect fit for your company's marketing and branding goals by partnering with ASGCT for the 22nd Annual Meeting.
Employment Center
Online-Only Job Board
Employers can purchase online job postings at a discounted rate before the 22nd Annual Meeting. Employers receive unlimited job postings and CV viewing for 90 days. Please visit the Job Board and select the 22d Annual Meeting at the bottom of the page to sign up. Applicants can apply for open positions through the online Job Board.
Registration
For Profit Employers: $600
Non-Profit Employers: $400
On-Site Job Posting: $50
Applicant: Free
On-Site Job Board
A physical job board with printed postings will be available employers to purchase postings for at the Annual Meeting. Postings are $50 per job and must be submitted to Samantha Kay, ASGCT project manager, by April 18. To submit a job posting and payment, please email skay@asgct.org.
Note: ASGCT does not handle interview scheduling.