Become an Exhibitor
The ASGCT 21st Annual Meeting is the world's largest gathering of gene and cell therapy researchers and provides an international forum where the latest scientific developments are presented and critically discussed.
Meet more than 2,650 attendees, including basic and clinical investigators from academic, regulatory, and biotechnology sectors.
Reach your target audience in person and through the many branding and contact opportunities available only through ASGCT.
Support ASGCT and its membership through involvement in the Society's Annual Meeting.
Attendance is Growing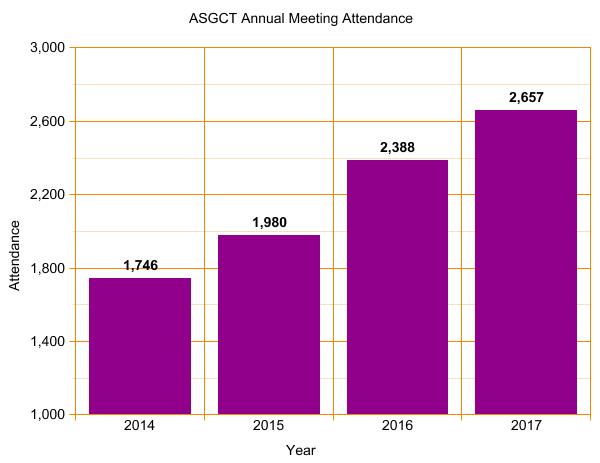 In addition to booth space, exhibitors receive many additional benefits:
Full meeting registrations for two attendees—or more depending on the size of your booth.
Four Exhibit Hall passes for exhibit staff
Listing, logo, and link on the ASGCT web site and within the mobile meeting app
Exclusive access to purchase discounted mailing labels for meeting registrants before and after the Annual Meeting
Listing in the Final Program Guide, on signage throughout the meeting space, in The Vector, and in Molecular Therapy
Access to lead retrieval equipment
Ability to rent a dedicated private meeting space within the hotel exhibit level for personalized meetings with attendees
Access to the Tools & Technologies Forums to present your company's products and services to attendees
Important Exhibitor Information
Apply to exhibit at the 2018 Annual Meeting

The 21st Annual Meeting will be held at the Hilton Chicago in downtown Chicago, Illinois. The meeting will begin on Wednesday, May 16, 2018, and continue through Saturday, May 19, 2018.

Exhibitors are eligible to receive the special room rate of $265.00 in the official headquarters hotel of the Annual Meeting, the Hilton Chicago. An ASGCT dedicated housing link will be available in December 2017.
Dedicated Exhibit Schedule
Wednesday, May 16
Welcome Reception & Poster Session: 5:30-7:30 p.m.
Thursday, May 17
Coffee Social and Oral Poster Session: 10-10:45 a.m.
Coffee Social: 3-3:45 p.m.
Networking Reception, Poster Session, and Tools & Technologies Forum: 5:15-7:15 p.m.
Friday, May 18
Coffee Social and Oral Poster Session: 10-10:45 a.m.
Coffee Social: 3:15-4 p.m.
Networking Reception, Poster Session, and Tools & Technologies Forum: 5:45-7:45 p.m.
Exhibit hours are subject to change.
Booth Rental Fees
| | |
| --- | --- |
| 10 x 10 In-Line | $2,800 |
| 10 x 10 Corner | $2,950 |
| 10 x 20 Booth | $4,500 |
| 20 x 20 Island | $7,500 |
*Non-profit, educational, and research facilities are eligible for a $500 discount on booth rental fees.
For more information please contact:
David Wood
Senior Program Manager
Telephone: 414-278-1341
Email: dwood@asgct.org



Support Opportunities
Sponsorship positions are moving fast. Sign on now to sponsor part of the 2018 annual meeting!

Download our mobile app


Coming Soon
#ASGCT18